From start to finish, the GBC Foton 30 simplifies the lamination process. Just place documents in the tray, press start and walk away. You can save up to 98% of your time compared to manual pouch lamination.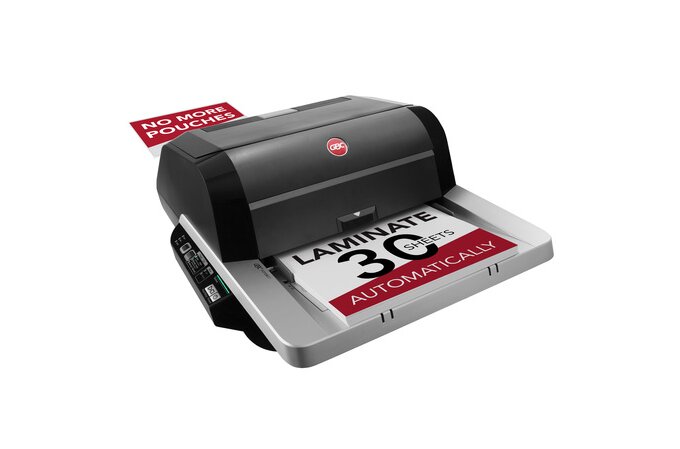 No more pouches
This machine uses auto-threading film cartridges from GBC, which means you no longer need to open individual pouches and feed them one-by-one. Plus, the cartridge can only load one way, which eliminates film loading errors.
Fully-Automatic
Create flawless documents at the touch of a button. The GBC Foton 30 automatically detects film thickness, straightens papers as it feeds, controls spacing and trims the finished documents for neat and even results
Take a hands-off approach to lamination. The Foton 30 feeds, laminates and trims automatically, giving you time to multitask on other projects.
Place documents in the tray, press run and walk away. It will automatically start once warmed up. Plus, our 3-5 mil film cartridges are auto-threading for stress-free film loading.
Create perfectly laminated documents without a pouch. With 3 different mode options, you can laminate letter size pages, oversize documents and odd shapes.
Load up to 30 letter size sheets in the Auto-Feeder. Laminate up to 230 documents per film cartridge. A sensor controls spacing to minimize film waste and prevent jams.
Auto deskew straightens pages to feed evenly. Other features include auto shut off and mil thickness detection. Comes with 2 year or 5000 laminate warranty. Starter cartridge included.